Dr. Kokou Edem Tengue, the Minister of Maritime Economy, Fishery and Coastal Protection of the Republic of Togo has been listed amongst the 30 Most Influential Young Economists from Sub-Saharan Africa in 2022.
The 30 Most Influential Young Economists Awards is compiled by the Institute of Certified Chartered Economists (ICCE).
The ICCE is a professional body for economists with a shared common vision of raising economics professionals through the Chartered Economist program.
The Institute is dedicated to equipping economics professionals with the needed skill sets, expertise, and qualifications that help them to rise to the top of their chosen career paths, and thus, shape the future of their industries.
The 30 Most Influential Young Economists Awards is the most-anticipated annual compilation of young, bold, and brightest economists who are under the age of 40 years old.
This initiative is aimed at celebrating new economic thinkers and rising economists who are influencing positive change across their country's economy.
Kokou Edem Tengue is a stalwart cabinet member of the Togolese government, serving as the Minister of Maritime Economy, Fisheries & Coastal Protection.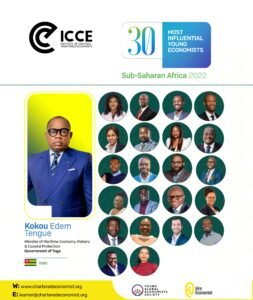 His biannual incumbency has spiraled the contribution of maritime trade to the Togolese economy, consolidated fishing activities & aquaculture, and has guaranteed the protection of its operational coasts.
As a former Managing Director of Maersk Togo S.A., he has a demonstrated history of working in the financial services industry. Skilled in Negotiation & Analysis, Operations Management, Freight, and Liquidity Management.
According to the ICCE, the award is highlighting the bold, true, and genuine potentials of young economists whose works are at par with their impacts whiles serving as a source of encouragement to other young individuals whose commitment to stimulating growth is undoubted.